My Music Story... "Tale Of A One Woman Band"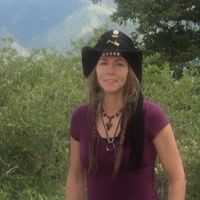 A wearer of many hats, KimiGrace Fliegel has an eclectic style in her music, her work and even her attire.
Her music background is about as eclectic as she is and has spanned the spectrum from hippie 
jams around the campfire, new age spatial sound performances and dark, smoky jazz venues to theatre 
troupes, Hard Rock rallies and even elegant events for the "Upper Crust".  Once KimiGrace stopped trying to run from God,her music has been centered on Him and His kingdom.

While KimiGrace greatly enjoys playing music with others, she also sees herself as a "one woman band". 
"I have always had a peculiar problem," Kimi exclaimed. "You see, I play all of the instruments you find 
in the band and then some. One would think you could at least play one different instrument per song, 
right? Well it doesn't work out very well when you are the leader and there is no one to play guitar or 
keys while you're banging out a groovy rhythm on the drums. It kind of leaves everyone else with the 
deer in the headlights look, completely confused as to what to do next."

Recording in her home studio, Fliegel has the outlet to express her varied and vivid styles by layering up 
funky instrument parts, thumpin' bass, jammin' drums and lingering vocals. Even in a live setting, she 
has accomplished the "one woman band" by using specialized equipment that loops the riffs and builds 
the layers. "It's great to play my songs with my band Remnant, but what a blast to be able to play several 
parts all myself and still sound like a whole band," she remarks.

"Nothing the normal way for me." Says Kimi. "I can't read music, I flunked eighth grade, I dropped out 
of high school… I even tried to ditch God for a couple of decades. Little did I know at the time that my 
journeys would all work out according to God's plan, and what He created me to do." In addition to 
song writing and composing, KimiGrace Fliegel is a Naturopathic Physician, Life Coach and Spiritual 
counselor, Public Speaker, Worship Leader, Teacher and Co-leader with her husband Jeff, "equipping 
the saints" for the days to come. "So while you might say wow at all the hats I wear, it is really God who 
deserves the "Wow!" because I am just a small expression of His wonder," states Fliegel.

"It has been my dream for so long to have the time to write and record the music I feel in my soul and 
hear in my spirit." Fliegel continues, " I believe in God's timing for everything and I wasn't ready to write 
what He has in His heart, until now." Fliegel's passion is to connect others to the Father heart of God 
and intimate fellowship with Him; to call the "Church" to rise up out of their mixture with Babylon and 
mediocrity into becoming the warriors they are designed to be; to be a light and a help to those less 
fortunate; and to exemplify radical Christianity with all the miracles and power of the Kingdom of God 
through knowing her identity and authority in Christ Jesus/Yeshua. "Jesus is coming back for a clean 
bride, a warrior bride, and the yearning to express those truths in my music prompts me to pray for 
guidance in each and every session," says Kimi. 

While in every studio setting artists are often faced with equipment failure and breath taking threats of 
the lost "perfect riff", KimiGrace tells the story of how God saved the day. "My new album Rise Up has 
been an amazing journey, an adventure really, encompassing everything from the heights of success 
to the depths of utter tears and despair. There was even the time that I thought an entire song was 
completely lost due to a fatal mistake on my part. After serious prayer, somehow I was led to just the right 
configuration of key strokes and… voila! Miraculously, right in front of me, the song and all its tracks, 
events, and tens of hours of work, literally began to rebuild before my eyes! I still don't know how, but 
praise God! Another time I did a simple restart on my computer. Oh… that was not good. The only thing 
that came up was a black screen with a white DOS curser on it. The threat of the curse of death to all 
my work! Everything! Once again I hit the deck in feverish prayer to the one and only true God Yahweh. 
Within an hour, an I.T. geek was at my door and my computer was restored. "Whew, that was easier than 
I thought it was going to be, normally when that happens the entire computer is wiped!" Exclaimed the 
computer tech as he wiped his brow. "So once again, all praises go to God Almighty."

Her first album, Open Heaven is a prayerfully designed instrumental "soaking" CD that envelopes the 
listener with a sonic tapestry that takes one from the mellow contemplative resonance of piano and cello, 
into the cadence of rainforests and skipping about on landscapes of flute and bass, harps, keys and synth 
pads, all the while opening a bit of heaven where the connection with God is heightened. People have 
remarked many times over that healing on many levels arise as they engage in this intriguing piece. 

Kimi's heart swings wide with compassion for the people of God, for their walk, and for their souls. 
She sees that the clock is ticking and the bride is still asleep. "The path is narrow my friends and a 
strong relationship with Yeshua (Jesus Christ) is more important than anything else on this planet." 
She concludes, "I pray that my music will fan the flames of desire for deep connection with God to the 
point of actualizing the call on your life. For only the vessels of honor will He be able to use as the dark 
day approaches. The day is short and the time is now, church, so RISE UP and STAND, and become 
equipped for the battle of an eternity!"

May it come to pass.